Bangladesh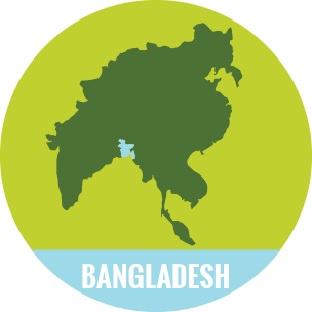 POPULATION
162,9 million (2016)
PEOPLE LIVING BELOW THE POVERTY LINE
31.5% of the population (2016)
GDP PER CAPITA (PPP)
USD 195.079 billion (2015)
Life expectancy at birth: 70 years (2015)
The People's Republic of Bangladesh was founded as a constitutional, secular, democratic, multiparty, parliamentary republic. After independence in 1971, Bangladesh went through periods of poverty and famine, as well as political turmoil and military coups. The restoration of democracy in 1991 has been followed by considerable advances in economic, political, and social development.
According to the 2008 UNDP Human Development Index, Bangladesh ranks 147th among 179 countries and has achieved medium human development gains over the past 10 years. However, more than 63 million people still live below the poverty line, the constant threat of shocks – natural, political, or economic – the uncertain impact of globalization, and an increasingly competitive international trade environment impede higher growth rates.
Structural changes in rural Bangladesh have spurred rapid economic migration exacerbating urban poverty, creating a lack of reliable work and leading to congestion and limited shelter in urban areas.
Bangladesh faces considerable challenges to sustain and build on the achievements of the last decade, and to remain on track to meet its targets under Sustainable Development Goals (SDGs).
(Data sourced from the World Bank and United Nations sites, June 2017)