Indonesia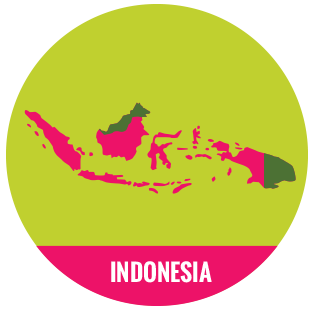 POPULATION
257.56 million (2015)
PEOPLE LIVING BELOW THE POVERTY LINE
11.3% of the population (2014)
GDP PER CAPITA (PPP)
USD 3,346 (2015)
Life expectancy at birth: 69 years (2014 data)
Indonesia is an archipelago of thousands of islands to the north of Australia – the most famous of these from an Australian point of view is Bali. With such a large number of islands it is no surprise that there are also a large number of ethnicities with a corresponding number of languages (over 300) spoken across the country. The capital is Jakarta, located on the island of Java.
Indonesia is a democracy with a President, currently Joko Widodo.
Whilst Indonesia has a flourishing economy, and is growing strongly, there are still a number of development challenges facing the nation. While only 11.3% of the population are under the national poverty line, approximately half of all households hover near, or periodically dip below, the poverty line.
Neonatal deaths per thousand live births are still high, as are maternal deaths, and water and sanitation facilities are not available in many communities.
Data sourced from the World Bank and United Nations sites, December 2016